Guatemala MNH Scott #C188-C196 National Fair (1953) CV$34+
MINT NEVER HINGED STOCK IMAGE MAY BE SHOWN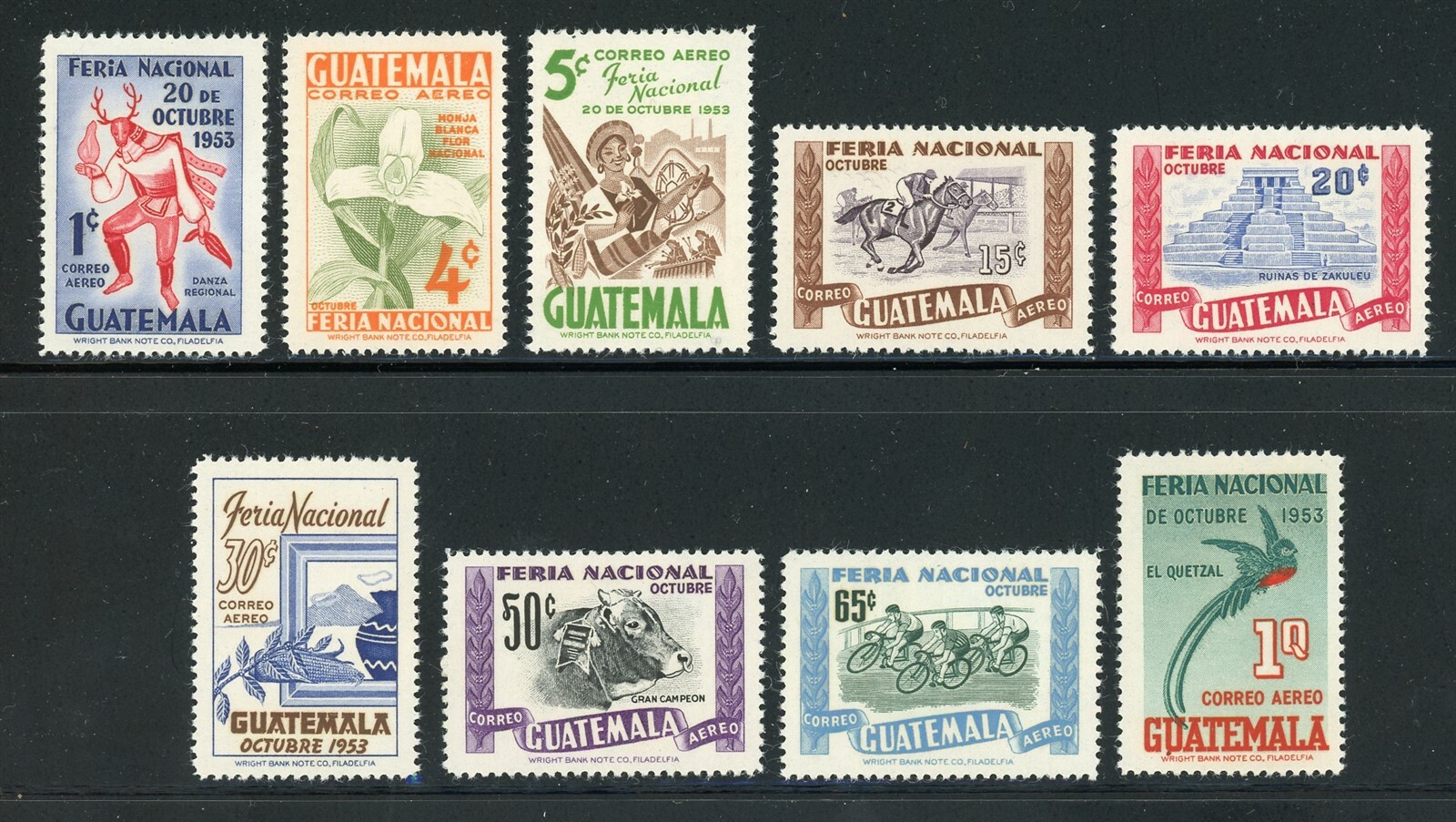 This is from our extensive Worldwide Stock - Please use image as part of decription
Please note: We use our stock images for many fixed priced items.
You may not receive the exact stamp imaged.
Margins / Serial numbers / color bars / gutters if imaged may be different than shown.
Also Note that long strips may be folded at perfs. (Many times this is how we receive them)
We have tried to call this out when we list a strip that has been folded.
We make every effort to correctly catalog items.
On occasion, we may misidentify an item.
If you spot an error, please contact us.
We appreciate your input.
Have a question? Please ask!



PLEASE READ ALL POLICIES
BY PLACING A BID YOU ARE AGREEING TO THESE POLICIES AS STATED. THANK YOU
We are happy to combine items UP TO a 2-WEEK PERIOD or UP TO 40 items., which ever comes first. eBay has a 40 item per invoice limit, so payment is requested if you reach that limit prior to the 2 week period. We do not hold paid invoices, as eBay can count that against us.
Payment is required within 15 days of first item. We use eBay nonpayment automation. If payment is not received within the allotted time you will receive a nonpayment reminder from eBay.
We will no longer be offering free shipping. Shipping will be charged on a per invoice basis for both US & International – Ebay has a 40 item limit per invoice, so if you have more than 40 items you will receive more than one invoice, resulting in more than one shipping charge.
Thank you for your understanding and your business.
US shipments:
USPS 1st Class letter -$2.00 per invoice (up to 40 items within a 2 week period). If you have more than 40 items, eBay will split your order. This is the way the eBay system works and we cannot override that. Oversized lots (sheets and pages or collections) may have a higher shipping cost and may not be combinable or qualify for free shipping. If so it will be stated in the listing.
Due to recent changes in tax laws (Wayfair vs S. Dakota), we are now required to collect / submit sales tax for the following states: Maryland, Georgia, Michigan, Illinois. Until eBay begins collecting for all states, this list may continue to increase. Thanks
International Shipments:
USPS 1st Class Intl Letter $2.50 per invoice (up to 40 items within a 2 week period). Letter shipments DO NOT HAVE TRACKING. If you wish to have tracking please request registered mail. This is an additional fee of $16.
NEW RATE: Album pages & Large Sheets - $2.50 first item, 0.75 each additional flat item. Covers may have additional shipping charge of 0.25 each cover. Collections have high International shipping costs. Therefore, please inquire to cost if interested in purchasing a collection. If you have more than 40 items, eBay will split your order. This is the way the eBay system works and we cannot override that.
International Bidders -Registered Mail required for some shipments & Countries and carries an ADDITIONAL fee ($16) SEE BELOW
Registered Mail Policies: For Most Countries:
Registered Mail is required on invoices over $100 and is an ADDITIONAL $16. This provides a tracking number and secured shipping. If payment is made before Registered mail is added you will receive an invoice for the ADDITIONAL $16 fee. We know this is expensive but it is the actual cost at the USPS. Your items will not ship until fee is paid. If payment for registered mail is not received within 7 days we will cancel the transaction.
Some Countries (list below)- require registered mail regardless of the invoice amount. So please check list below or the ebay shipping tab above prior to purchasing. The following is a list of countries that require Registered mail. This provides a tracking number so that the shipment can be tracked.
All shipments to Africa (excluding South Africa), Afghanistan, Argentina, Armenia, Bangladesh, Bhutan, Brazil, Colombia, Dominican Republic, Ecuador, Georgia, Guatemala, Guyana, Haiti, India, Iraq, Kazakhstan, Kyrgyzstan, Lebanon, Maldives, Mexico, Nepal, Nicaragua, Pakistan, Paraguay, Peru, Poland, Romania, Saudi Arabia, Serbia, Suriname, Tajikistan, Turkey, Turkmenistan, UAE, Uzbekistan, Venezuela, Yemen.
We reserve the right to add registered mail if we feel there is an increased risk.
Shipping delays: Though most mail arrives in a timely matter, sometimes issues arise that delay mail. Our handling time is 4 Business days. We do not have control over postal services or customs. Delays can occur. International shipments can take 30-60 days.
Registered mail items will take longer. Especially to Latin America. We have had shipments to these countries take 90+ days.
We do not ship to any location that would be in violation of any U.S. economic or trade sanctions including OFAC Restricted Countries.
If you have any questions please contact us.
Check out the offers currently available. Click - Several Offers to chose from - all great deals. If no offers show - click refresh in browser
We have a 100% guarantee policy.
All items can be returned for full refund. We want you to be happy with your purchase. If you are not happy for any reason, please contact us directly and we will work with you to make it right.
Leaving a negative feedback or low DSR mark will not fix an issue. Direct communication is always the best way to fix an issue. We are a 2 person team that processes thousands of stamps a month. We make every effort to correctly describe and catalog the stamps we list. So PLEASE read complete descriptions! AND ALL POLICIES. If there is a fault we will describe it. Faults are usually stated in "Item Condition" located at top of auction next to image. If returning a stamp with a described fault - buyer is responsible for returned shipping.
Occasionally we do make mistakes and we may incorrectly catalog something or miss a fault. If we have made an error, please let us know and we will make it right. If you notice an error in a listing, please feel free to contact us and let us know. We will try to correct the error in the listing or remove the auction.
If we are unsure about a stamps authenticity, it will be listed as reference material. We are not expertisers, so we are always open to our customers contacting us about an item that is listed that they think is incorrectly listed or may be a fake.
If you purchase an item and want to get it expertised, please let us know. If it comes back not authentic, we will accept the return and refund your purchase price plus shipping. Please Note: We DO NOT pay for expertising services, regardless of the outcome.
HAVING TROUBLE COMBINING ITEMS?
EBay has a 40 item limit per invoice. If purchasing more than 40 items you will have more than 1 invoice. eBay treats each invoice as a separate transaction.
When purchasing multiple BIN (fixed priced) items, please use shopping cart. This is the only way to receive combined shipping or discounts from our special offers. If you purchase and pay after each item, eBay will charge you shipping each time and us additional fees. So please, use the "add to Cart" for multiple BIN items.
For auctions, you should be able to go to your cart and check out. EBay will combine the items and apply the shipping discount. If you are having trouble combining items, please request an invoice and we will combine them.
As for mobile apps we do not have a solution. It requires immediate payment and will not combine. Poor development. We contacted eBay regarding issues with combining, their suggestion was to have customers contact eBay.
Do you combine shipping?

Yes we do. We will combine over a 2 week period. Please see the COMBINING ORDERS tab above.

I made an error in my bid, may I retract my bid?

Please note that we follow eBay's policy on bid retractions.

If you entered the incorrect amount (ie: $50 for $5) you may retract your bid and then replace your bid for the correct amount. Per EBays policy. If you have bid in error, please contact us prior to retracting your bid and let us know.
We will not tolerate bidders placing bids just to see what another bidder has bid and then retracting their bid. This is against eBay policy. If we see a pattern of this type of bid retractions we will block you from bidding and report you to eBay. This is not allowed by eBay and it is unfair to other bidders.

I can not bid - I have been blocked why?

If you are located in a countries we do not ship to eBay will not let you bid. We also block bidders who have not paid for items or have had multiple bid retractions. If you have been blocked from bidding you may not bid using a different user name. This is an eBay violation -blocked bidder avoidance - and we will report this to eBay.

Can you send me a scan of the back of the stamp?

Yes we can. We are always happy to send additional photos of stamps, front or back, for you to get a better look. We do need your direct email if you wish to receive additional photos.

Do you accept returns?

Yes we do! We want you to be happy with your purchase. If for any reason you are not happy, please contact us. For additional info please click REFUNDS tab.

My Item has not arrived, what should I do?

Please contact us through eBay We have found that very few envelopes actually get lost. In that unlikely event your item does not arrive please contact us and we will do what we can to find it. For domestic mail, we ask that you do give it 30 days from mailing. Sometimes the Postal service misplaces items and they get delayed. If item has not arrived within 30 days, you will be asked to fill out an affidavit stating item has not arrived. This allows us to file with our insurance company. We appreciate your cooperation with this. For International shipments we ask you give it 45 days. This is a requirement of our insurance company. If your item has not arrived after 45 days you will be asked to fill out a signed affidavit stating item has not arrived. This allows us to file with our insurance company to recover the loss. We appreciate your cooperation with this. If you need to reach us for any reason: please click Contact Seller

Powered by SixBit's eCommerce Solution